Design
Nicolas Bissantz, Fabian Rossi
»DeltaApp stands out in the simplicity of its design patterns and motion design with finesse. Taking on the not so easy mission of making data understandable, the app has focused on user needs and goals, empowering its users to make better decisions. The integration of a chat interface on large, complex data means both improved usability and saving time - great work DeltaApp.«

Amber Lundy & Oliver Kulpi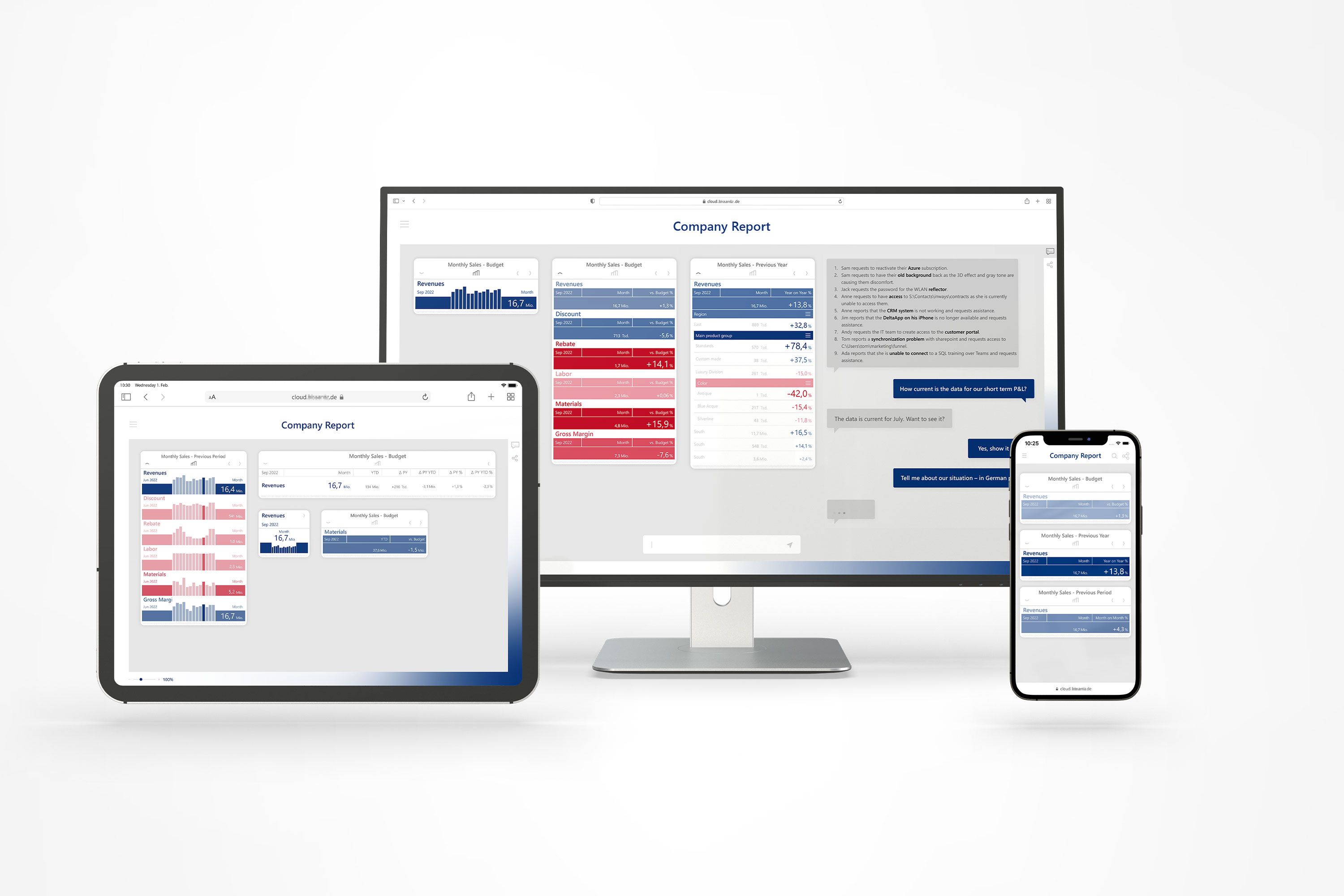 Three questions to the project team
What was the particular challenge of the project from a UX point of view?
One of the biggest challenges during the development process was to match the users' habits and expectation from a business-management/operations point of view. People in general tend to stick to what they know. And as the DeltaApp presents a very different approach to data analytics in comparison to Microsoft Excel or Power BI, it was tough to match, as Raymond Loewy once called it, the MAYA standard\; so being most advanced, yet acceptable. Connecting the economic thinking to gestures, e.g., swiping from monthly to accumulated (Year To Date) values, was a big step, considering, that controllers/accountants/managers are mostly used to see these values next to each other in large, static tables. The DeltaApp persuades to change that mindset.
What was your personal highlight in the development process? Was there an aha!-moment, was there a low point?
Highlight: Seeing the first prototype tested by a controller with its own company data, and getting the feedback, that he has never seen his company in more clarity and structure. Lowlight/Struggle: Realizing that our ready-made tile grid for desktop/tablet wasn't suitable for some of the dynamics we wanted to implement after testing it. We needed to develop a complete new one, which was an unplanned on-top effort of approximately four weeks. But it was worth it.
Where do you see yourself and the project in the next five years?
We aim for the DeltaApp to replace conventional import/export-processes, printed reports, e-mail attachments and many other manual time and energy consuming actions. Besides the analytical features, we plan to adapt the DeltaApp mechanics to wider fields of data management, such as ESG-Reporting or the possibility to not only read, but also to write data (e.g. in planning applications, forecasting etc.). The development of an own AI will surely be crucial for this. As a company we see ourselves in five years even more than today as an avantgarde think tank, guided by both openness and decisiveness, embracing everything we don't understand, until we do.