Design
NEFF Design Team / Tobias Schmidt, Thomas-Éric Béliveau, Sabine Harrer, Katja Schönfuß, Franziska Scheere, Ralf Grobleben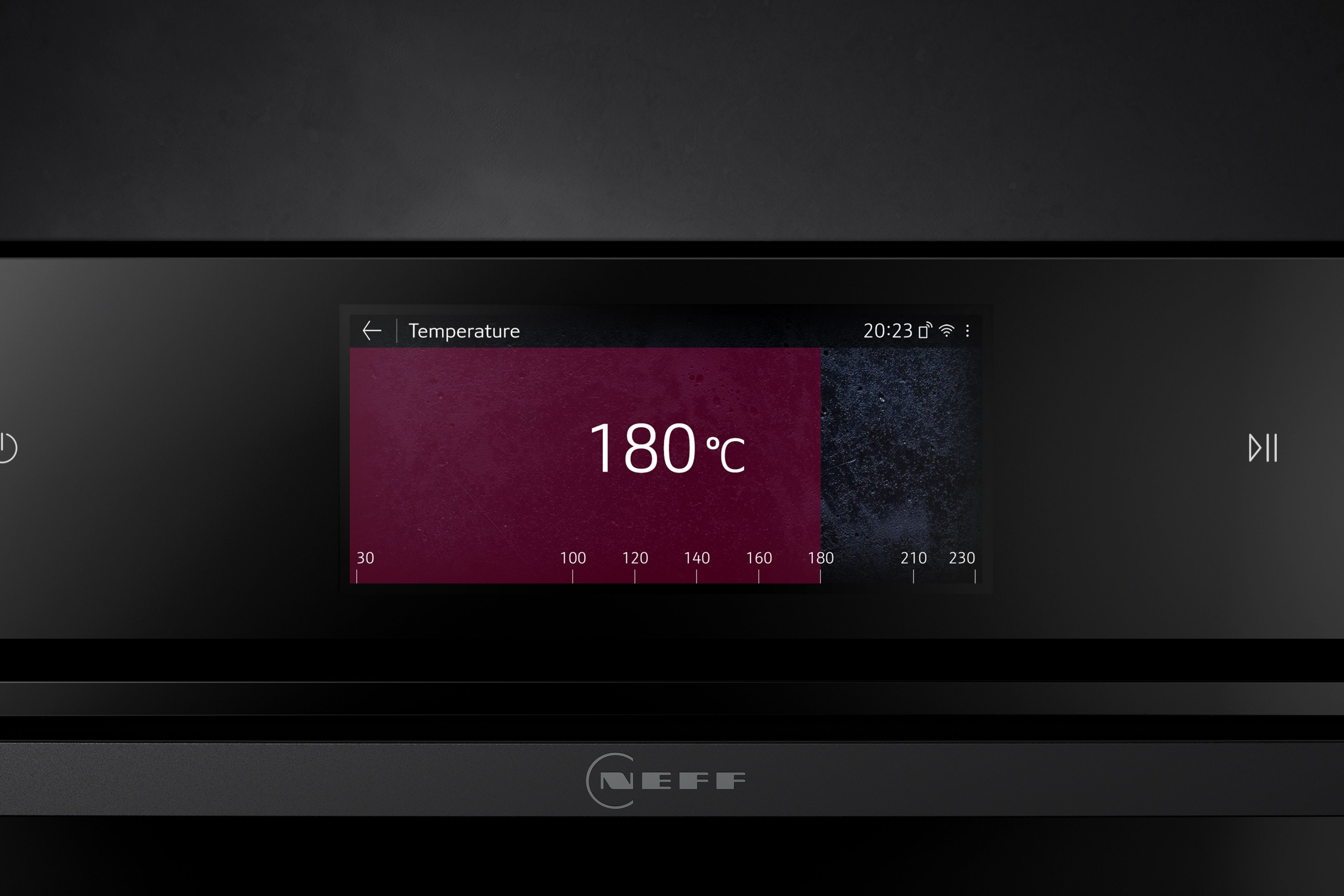 Three questions to the project team
What was the particular challenge of the project from a UX point of view?
How to design the value setting for all kitchen appliances in a uniform way? Our goal was for users to find a setting option on their appliance that was intuitive and convenient to use, functioning uniformly for every conceivable parameter and across all appliances in the kitchen. Once users have used it on one appliance, they have learned it for all others. In the process, we moved away from familiar patterns such as sliders and ended up with a pattern that is nevertheless intuitive to use and easy to learn. This is because it uses the entire touch area. This also gives the pattern a high level of recognition and uniqueness in terms of function and look. Last but not least, it is fun and the users want to use it again and again.
What was your personal highlight in the development process? Was there an aha!-moment, was there a low point?
Particularly large value ranges seemed initially impossible to display at the given touch resolution. We resolved this using a longpress function, a new facet in our concept: Users see at first glance the commonly used values. A more precise scale of values is achieved via longpress, which fans out in an animation. When transferring to other devices, we adapted the Tune Zone to other use cases while maintaining its recognizability. Another challenge was implementing the Tune Zone on the automatic coffee machine. Being in the embedded systems space, we couldn't use elaborate animations, but with simple means we created classy cup animations that visualize the selected parameters of the user's beverage. Users enthuse about this feature.
Where do you see yourself and the project in the next five years?
We want to develop the products in the interests of our users and according to the needs of our target group. All of our interaction concepts are fun to use combined with tangible added value! Assuming that user interfaces will become increasingly multi-sensory experiences, we will incorporate these influences. Despite increasing technological possibilities, operation must be as intuitive as possible or very easy to learn. Digitalization has entered the industry and we have the exciting task of accompanying this change. Here we are not only looking at kitchen appliances but also considering the kitchen as a special place of social interaction. In future, too, we want to offer cooking enthusiasts a great experience in the cooking process.