Design
Christina Brandstrup, Anders Rønnau, Ann Louise Kramer Nielsen, Henrik Petersen, Michael Kühl Andersen, Bjørn Carlsen
»This B2B solution can have a critical impact on water supply and management throughout the world. It has been developed together with users and customers and has a clear business model. The visual design is straightforward and fits the user group. The jury recognizes the significance of 'Acoustic Water Leak Detector' – this solution shows how service design and technology can scale up impact in the public domain.«

Lisa Gerkens & Nancy Birkhölzer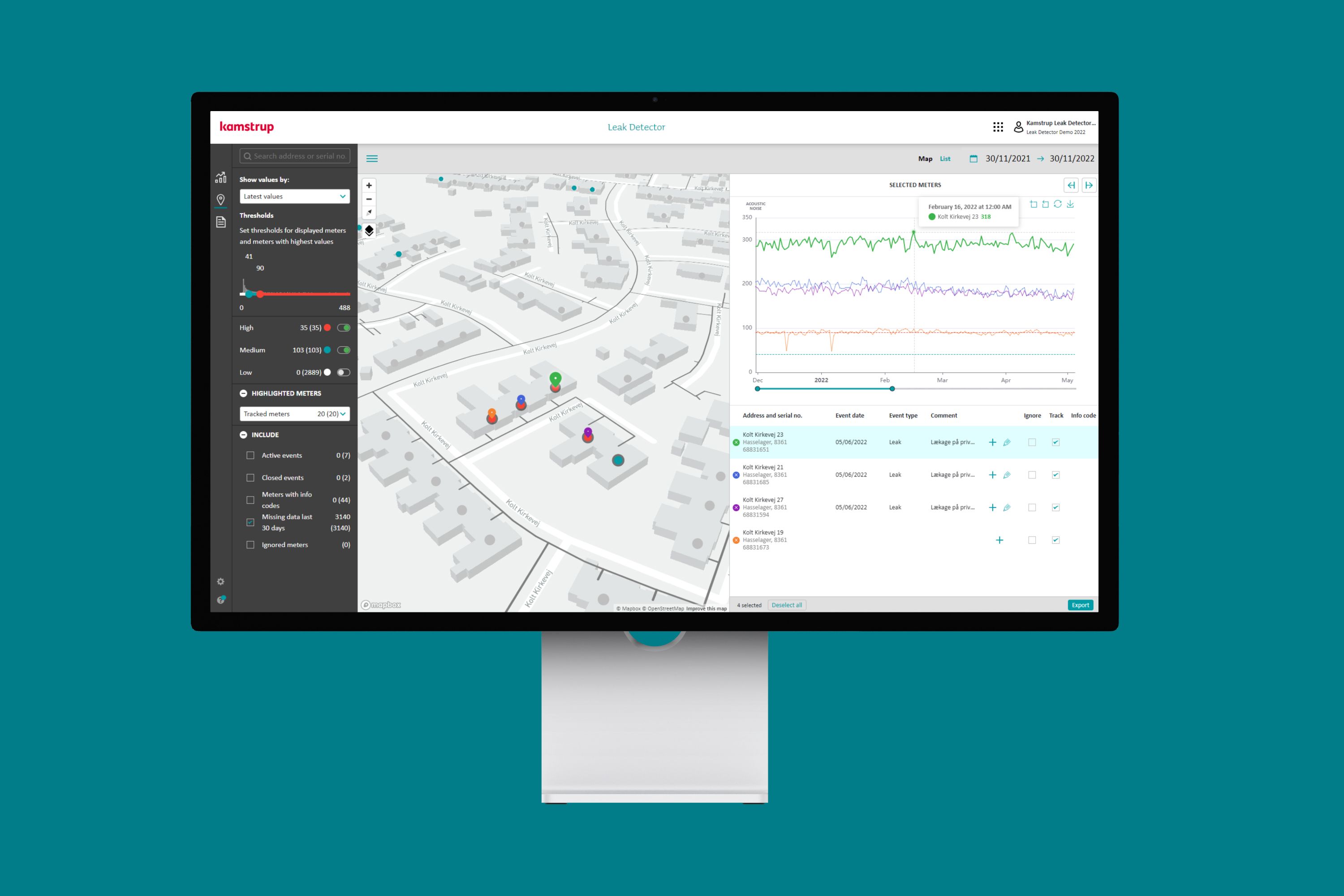 Three questions to the project team
What was the particular challenge of the project from a UX point of view?
The initial versions of the product posed a significant challenge to end users in terms of user experience, as it was both time-consuming and complex to filter and analyze the necessary data to make informed decisions. To address this, the UX team aimed to create an experience that would allow users to efficiently analyze data (minimizing time-on-task), identify the most impactful actions (such as pinpointing water leakages that caused the highest water loss), and feel confident that tasks were completed accurately (achieving a high success rate for jobs-to-be-done).
What was your personal highlight in the development process? Was there an aha!-moment, was there a low point?
To demonstrate the valuable impact of early prototyping and mock-ups. More specifically, we are using the 'dual track' model: Before writing any code, we present end users with a simple A/B version of an experience based on the hypotheses derived from user interviews, shadowing, and observation sessions. This allows us to identify which prototypes are effective in solving the problem and which are not. By doing so, we can iterate and refine the prototypes before moving on to software development sprints. Ultimately, this approach enables us to continuously learn, iterate and improve in a timely manner. Learning how diverse our customers and end users from country to country are. Therefore, we keep learning and collaborating with our customers, end users and domain experts to ensure we continuously support them in solving problems.
Where do you see yourself and the project in the next five years?
In the upcoming years, the world will encounter significant obstacles in ensuring access to clean drinking water. In response, we remain dedicated to addressing the needs of our customers and end users by facilitating more efficient solutions through an enhanced user experience that builds on user contented design. Especially, the ability to quickly adapt and iterate on designs based on user feedback and changing requirements is essential in a fast-paced and ever-changing digital landscape. Therefore our teams need to be able to pivot quickly and make informed decisions based on data and user insights.