School
Hochschule Pforzheim
Teacher
Prof. Wolfgang Henseler, Prof. Michael Throm
»Aimie increases the readiness and confidence of first aiders by providing specific and repeated guidance to perform CPR. The app is well-conceived, providing three levels of communication: text, sound and motion video. A clearly structured UI design conveys short text and voice instructions and intuitive explanatory 3D-video graphics well. Aimie shows a highly user-centered approach and a good level of understanding of peoples' needs in a stressful situation. The automatic repetition of CPR instructions adds to its positive user guidance. Looking into the near future this concept can also significantly benefit from advances in voice control technology.«

Simone Heißel
And the Award goes to....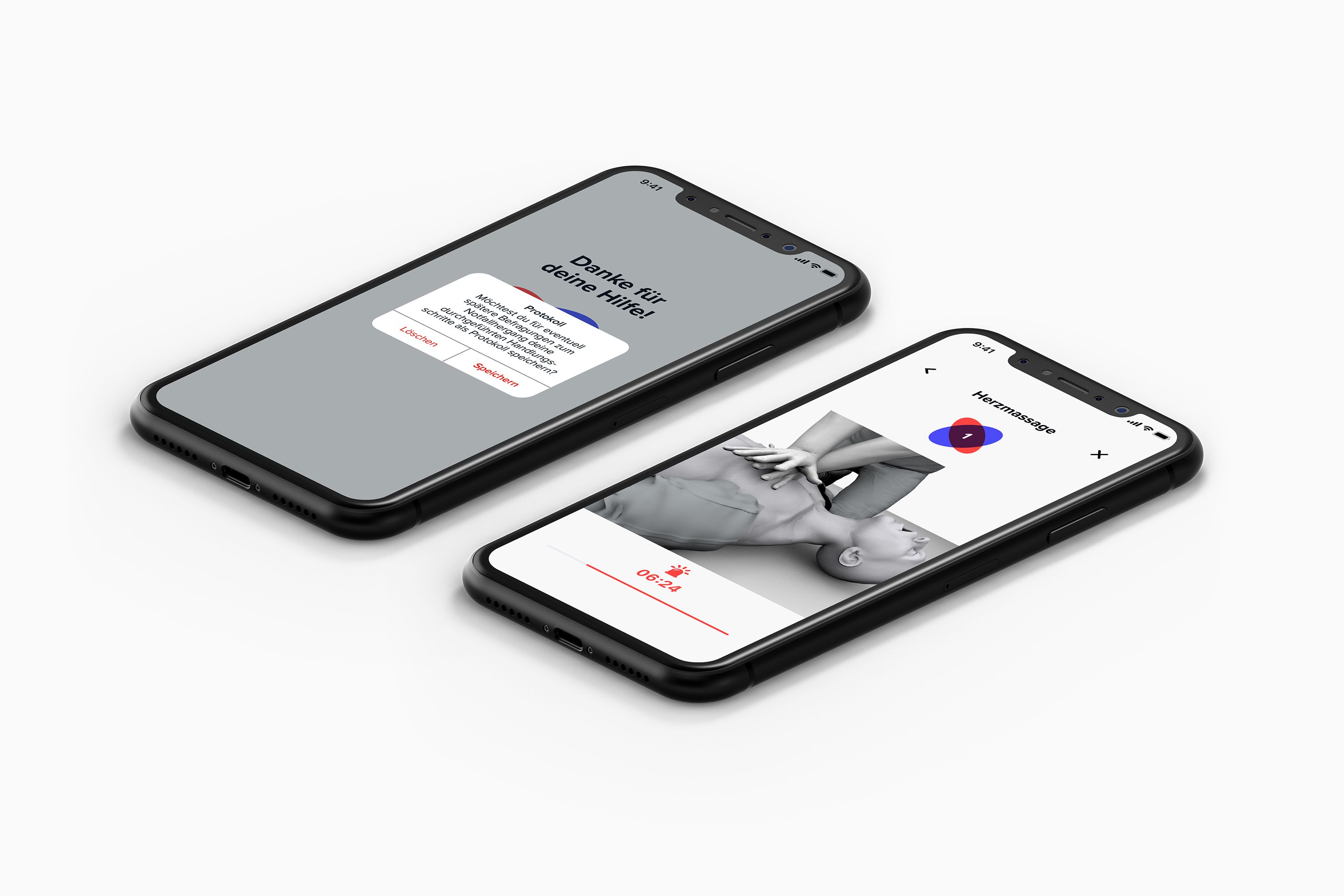 Three questions to the project team
What was the particular challenge of the project from a UX point of view?
The special challenge was that the initial situation in which the user finds himself is a very stressful situation characterized by uncertainty and excessive demands. The first aider, who has to provide first aid, is usually afraid of doing something wrong. The fear should be taken away and the interface should be designed as intuitive and simple as possible. Information must be able to be recorded and processed quickly. It should also be guaranteed that the life-saving measures are carried out correctly. Even if there may be communication difficulties between the user and the voice-controlled assistant - the user always has the possibility to proceed to the next step.
What was your personal highlight in the development process? Was there an aha!-moment, was there a low point?
My personal highlights were the interviews for my research. Above all, I had an aha! moment after the interview with an emergency doctor who told me that telephone resuscitation works very well and also successfully. The idea of guiding someone by voice through the necessary measures was really revealing and decisive for my next steps and the course of the project. This was the important point from which I realized that a speech assistant would provide the best possible solution.
Where do you see yourself and the project in the next five years?
In my desired future, I see myself in the next five years in a large and internationally recognised agency with a focus on digital innovation. What I like best is to make a real impact on people's lives and behaviour through my work. I like the idea of using digital innovation to make a positive change, to create something with added value. And in the best case scenario, Aimie will be implemented by a team of experts over the next few years and integrated into all smartphones in advance - à la Siri. This means that every user will be able to access it directly and more lives will be saved.