Design
Hannes Maurer, Frederic Myers, Sven Hornburg, Johanna Brandenburg, Michael Haselbeck, André Schulze
School
HfG Schwäbisch Gmünd, Universitätsklinikum Heidelberg, Nationales Centrum für Tumorerkrankungen (NCT)
Teacher
Prof. Gerhard Reichert, Prof. Dr. Ulrich Barnhöfer, Dr. Martin Wagner, Prof. Dr. Arianeb Mehrabi, Prof. Dr. Beat Müller
»By analyzing professional users in this very specific context, the project succeeds in addressing three significant trends and pain points at the same time: complexity in decision making, amount of scattered patient data, and relief of repetitive and time-consuming tasks. The clean and elegant presentation of the relevant information, the intelligent use of supporting micro-interactions, and the workflow-optimized interaction concept help users focus on the main task. However, the jury does see a challenge in making the AI work as envisioned in practice.«

Werner Spicka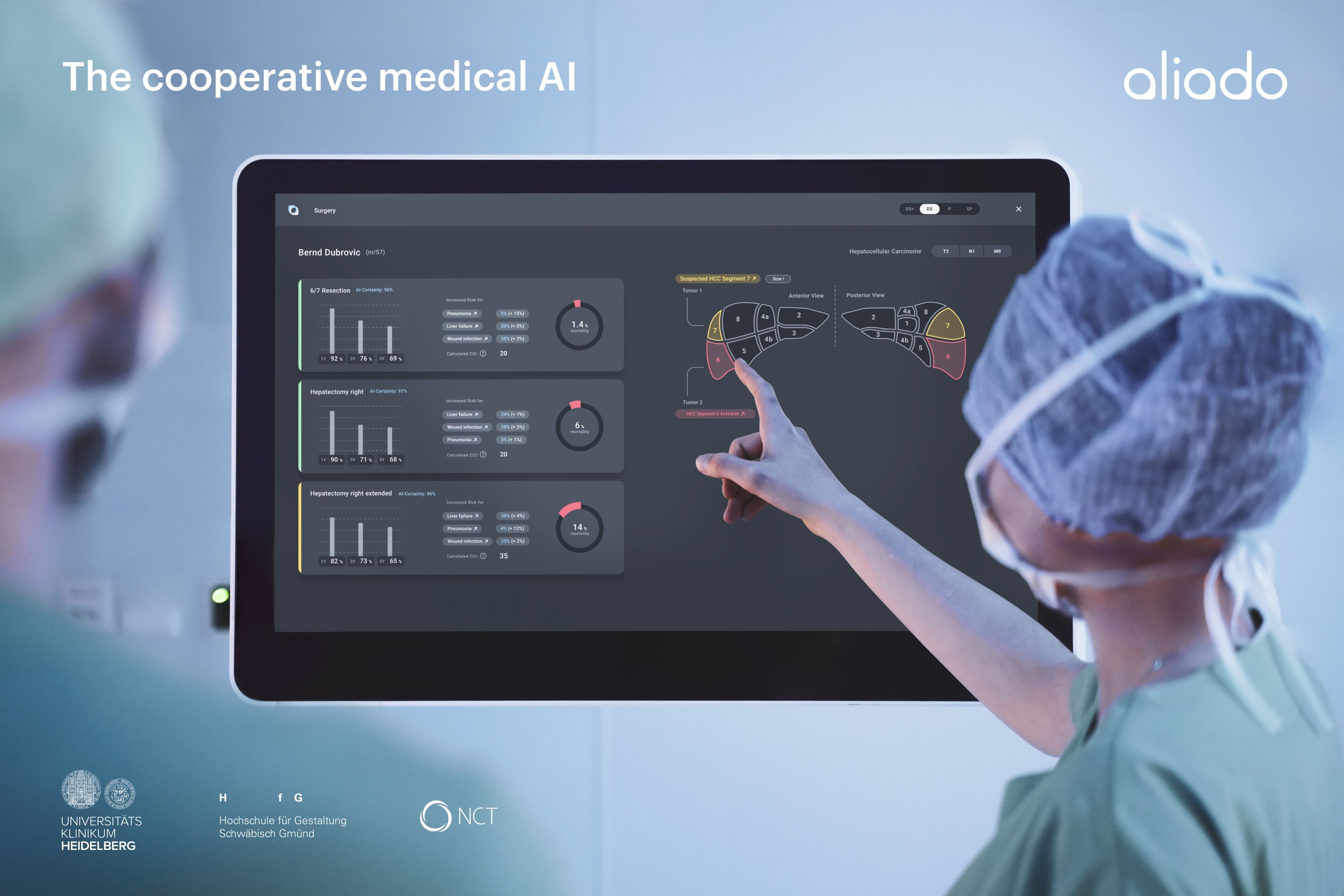 Three questions to the team
What was the particular challenge in the project from a UX point of view?
It was particularly challenging for us to comprehend the two highly complex and diverse topics of surgical oncology and artificial intelligence. It took many conversations, on-site observations, and iterations to gain the necessary knowledge to develop the concept. An essential focus at Aliado was the design of human-AI cooperation. Our aim was to use the strengths and weaknesses of both partners in such a way that they complement each other optimally. In particular, the question of how trust can be established between AI and surgeons led to many detailed discussions.
What was your personal highlight in the development process? Was there an aha! moment, was there a low point?
What made this project special to us was the intense, interdisciplinary collaboration with the experts and physicians of the University Hospital Heidelberg. There were many aha-moments during the development, as we learned the various vital aspects and elements of surgical oncology. In the end it was this close collaboration that allowed us to develop a realistic prototype for Aliado.
Where do you see yourself and the project in the next five years?
As the fight against cancer poses an ever-increasing challenge due to the rising numbers of cancer patients (28.4 million until 2040 according to the WHO), we believe the need for a digital ally for surgeons will continue to gain more significance in the future. Since Aliado is still in the concept stage we hope that it can be an example of how a human-AI cooperation could benefit surgeons and ultimately lead to better treatment outcomes for each cancer patient.