Design
Fedele Cavaliere, Paolo Tasca, Alessandro Celauro, Chiara Giovannini, Chiara Noli, Riccardo Volpiano
School
Politecnico di Milano - Politecnico di Torino
Teacher
Paolo Perego, Mario Covarrubias Rodriguez
»The DEUHR team demonstrates exceptional skills and a holistic perspective in addressing complex and pressing problems in a relevant use case: post-stroke rehabilitation. They have taken a very clear approach to solving the difficulties faced by post-stroke patients and those involved in the rehabilitation process. The solution uses available technologies in a creative and practical way. It is very flexible and offers various ways to monitor patients' exercises, effectively solving the problems of multiple stakeholders.«

Tae-Young Kang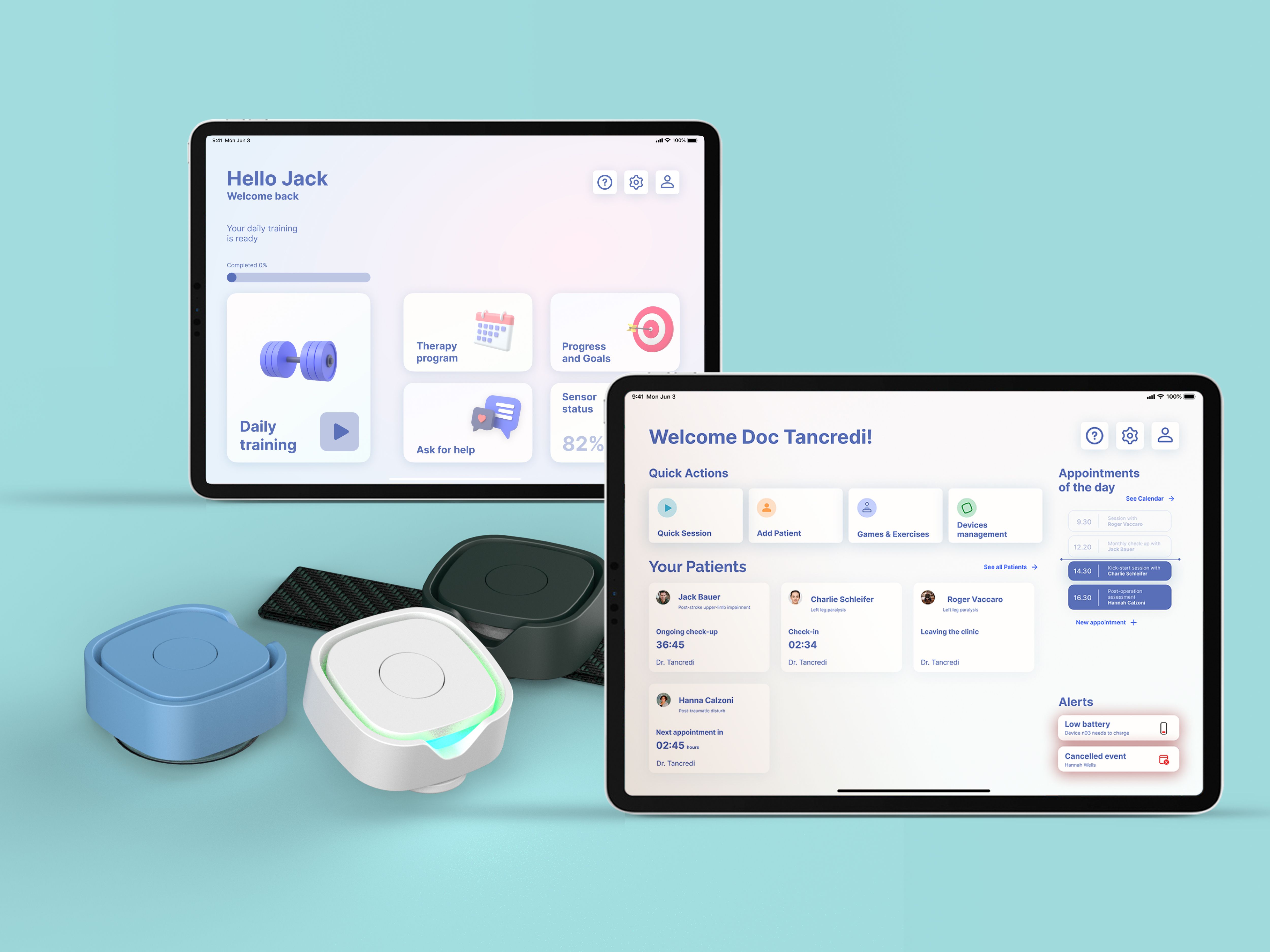 Three questions to the project team
What was the particular challenge of the project from a UX point of view?
Designing for remoter therapy is never easy and most importantly, it does not deal with a linear user journey. From this point of view, besides technical challenges related to the physical designs of both the sensing device and the affordances of the product experience, the biggest challenge has been to develop a language system able to reach all kinds of patients in to be neither intrusive nor poorly motivating. According to therapists that helped us throughout the design process, each of the patients develop their own personal response to motion impairment and consequently their own attitude to the rehabilitation process. In this sense, together with a wide choice of gaming activities assignable to single exercises, we focused our effort on improving the clarity of speech and calibrating the tone of voice in every single step of the therapy experience.
What was your personal highlight in the development process? Was there an aha!-moment, was there a low point?
As with every complex design project, there has been more than a single low point. The major challenge has been detecting the key value(s) we were providing to users with our design. Remote therapy solutions, from the lower-tech to the most advanced and immersive works basically under the same logic. However, most of the system lacks in providing a standard design system across physical and digital tools that can be adapted to many different treatments. Our so-called "aha!-moment" has been to spot this weakness and leverage it to build up a rehabilitation hub open to treat multiple impairments leveraging a common language and toolset, more than developing a sharp technology focused on a highly specific situation, helping both patients and therapists (that can share the management of patients with other colleagues) in managing smoothly all steps and all comorbidities happening along the rehabilitation path.
Where do you see yourself and the project in the next five years?
DEUHR has been developed with the contribution of a rehabilitation clinic in Northern Italy, as a joint design experience among our university program and the clinic itself. Despite the concept stage of the project and the full functioning of the demonstrator built for the project's final rehearsal, we are planning to expand the width of testing activities, enlarge the number of testers, and refine the algorithms implemented so far, in order to increase the soundness of the solution designed. In addition, we are also working on a scientific publication that we hope could be followed with interest. So, to answer this question we do actually see a future of progressive development and growth for DEUHR in the next years, stay tuned for more!