School
Hochschule für Gestaltung, Schwäbisch Gmünd
Teacher
Prof. Dr. Susanne Schade, Prof. Gabriele N. Reichert
»dot is a holistic concept that clearly offers a novel approach to receive a preliminary medical diagnosis with very little effort. Based on data generated by the user, the time available to a doctor could be balanced out and reorganized in a new, more beneficial and effective way. Yet dot looks beyond efficient treatment and automated documentation only. In a comprehensive way, this concept could create more space for patient empathy and lead to a human-oriented health system.«

Johannes Geyer
And the Award goes to....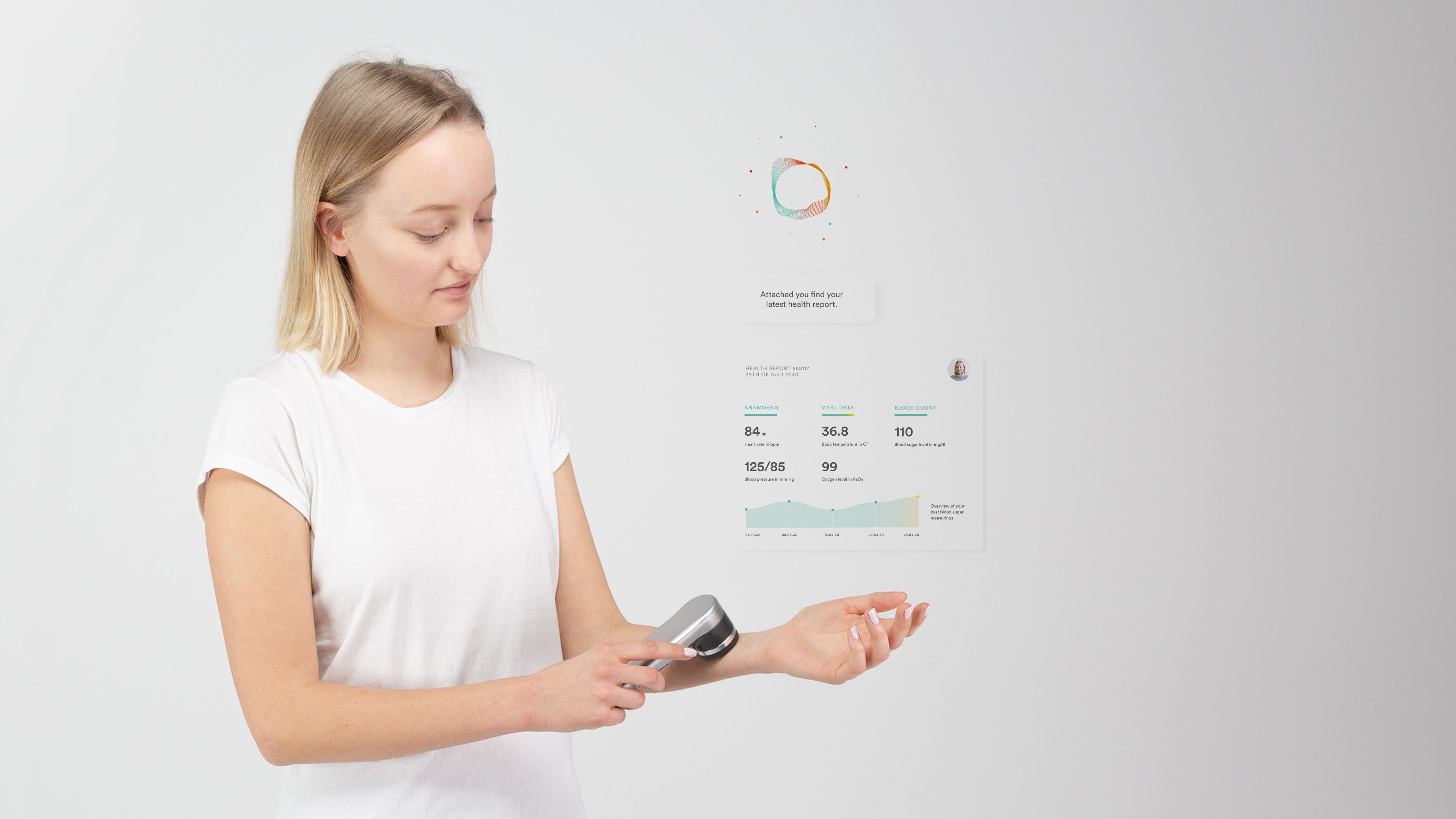 Three questions to the project team
What was the particular challenge of the project from a UX point of view?
Our target group is very heterogeneous: From digital enthusiasts to beginners, there is a wide range of patients, our service must be accessible for. Consequently, our focus was on creating a clear user journey and an intuitive product language. The question of how Artificial Intelligence has to be designed in order to take up an interface position in the communication between doctor and patient kept us very busy throughout the process.
What was your personal highlight in the development process? Was there an aha!-moment, was there a low point?
Initially we had to familiarize ourselves with the basic principles of Artificial Intelligence. This was a very exciting phase, because the potential for our healthcare system is huge. The sparkling idea came to us after a very intense day of brainstorming and we were able to set a clear, mutual goal. There was no low point or dead end during the development process. However, the project is only in concept stage so far. To implement it, we still might have to overcome a couple of regulatory and technical obstacles.
Where do you see yourself and the project in the next five years?
This year in particular will be a tough test for global healthcare systems. The advantages offered by health services like dot become even more apparent: Patients can examine themselves quickly and safely at home without being exposed to a risk of infection. In addition, the pressure on the healthcare system and emergency rooms is reduced. The collected knowledge can be stored anonymously across geographical borders, creating a globally accessible health knowledge data base. We are honored if dot can give new impulses to further research on the potentials of a "Home Diagnosis Service" as part of the UX Design Awards 2020.