Design
Salesforce / Owen Schoppe, Sönke Rohde, Brian Lonsdorf, Alan Ross, David Woodward, Jessica Lundin, Moritz Stefaner, Michael Sollami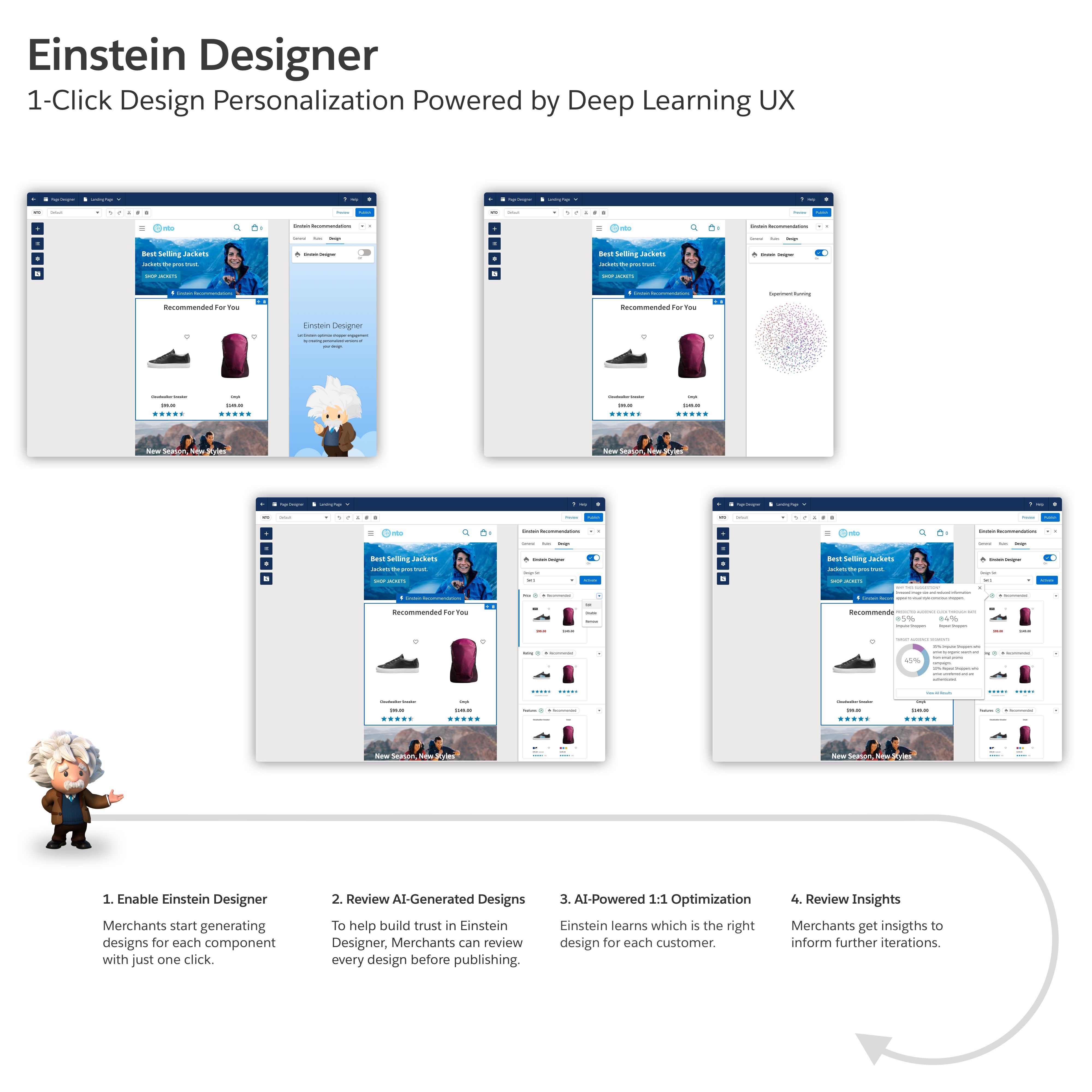 Three questions to the project team
What was the particular challenge of the project from a UX point of view?
Generative design presented several challenges. First among them was how to guide users to select a range of options that met their brand standards while still offering enough variation to serve different users. We identified the visibility and hierarchy of data as being the most important criteria for variations and created a tool that automatically varies these aspects to provide users with an initial recommendation. Users can then view additional options grouped by what data is shown if the suggested option doesn't meet their brand standards.
What was your personal highlight in the development process? Was there an aha!-moment, was there a low point?
Our highlight was launching several production pilots and measuring a statistically significant lift in business relevant KPIs through the personalization of design. Seeing our intuition being confirmed was an amazing reward for all the hard work which went into the project. An aha moment was when we showed Einstein Designer to customers. We expected more overall skepticism towards AI-generative design for having the ability to create brand-aligned, good design variations. Our customers were genuinely interested in trying out personalized design to learn more about what resonates with their customers but were lacking the resources to pursue this avenue.
Where do you see yourself and the project in the next five years?
Over the next five years we are going to see a paradigm shift for UX and design. Instead of a one-size-fits-all approach, future design will be AI-generated and bespoke to the individual users and customers needs. The vision for Einstein Designer is to evolve into a generative design platform build around ethical and sustainable core values. Quoting Salesforce CEO Marc Benioff: "We have to make sure that technology strengthens our societies instead of weakening them. Technology needs to improve the human condition, not undermine it."