Design
Julien Stoll, Valerie Grappendorf
School
Hochschule für Gestaltung Schwäbisch Gmünd
Teacher
Prof. Hans Krämer, Prof. Hartmut Bohnacker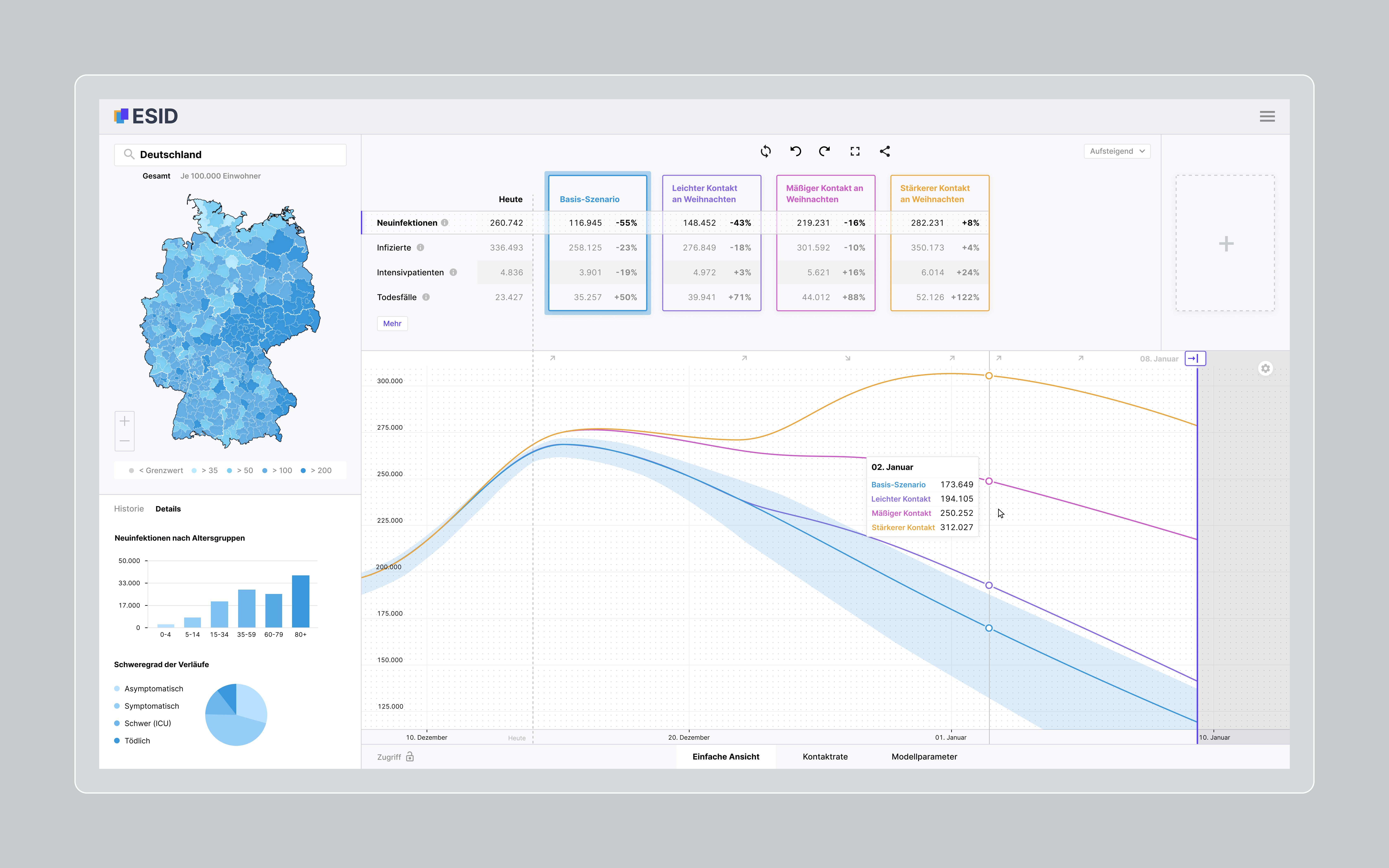 Three questions to the team
What was the particular challenge in the project from a UX point of view?
The challenge for us, since we do not develop models ourselves, was to get a sufficiently deep understanding of the new SIR-type model of the German Aerospace Center and the Helmholtz Centre for Infection Research. Only after we understood the possibilities and limitations of the model we were able to design a custom-fit user interface for the model. To support users in the decision-making process, it was important to design the user interface in such a way that different scenarios could be easily compared. Another challenge was to find a suitable method for entering the contact rates.
What was your personal highlight in the development process? Was there an aha! moment, was there a low point?
One highlight was the close cooperation with our supervisors at the German Aerospace Centre during the concept phase. They were just completing the research for their model and were in constant exchange with us. This was crucial in order for us to understand which ideas for the user interface are possible and which ones were more like science fiction. Another highlight was certainly the interesting people from politics and science with whom we conducted interviews during the research phase of the project.
Where do you see yourself and the project in the next five years?
We wish that our partners get the necessary funding to continue their research and that we get the chance to work with them again on this or an extension of the project. Considering the mutations of SARS-CoV-2, there is still a lot of uncertainty. We hope, of course, that the worst of the pandemic is behind us and that in five years' time we will not have to rely on simulation tools predicting the spread of SARS-CoV-2 anymore. Nevertheless, it is important for Germany and the EU to develop more simulation tools to anticipate and adapt to changing environments - be it public health or environmental.