School
Duale Hochschule Baden-Württemberg Ravensburg
Teacher
Prof. Dr. Klaus Birk, Prof. Dr. Markus Rathgeb, Prof. Andrea Hennig, Betty Schimmelpfennig, Christopher Gram, Kevin May
»Nachklang is a unique sound concept that addresses people, especially the young, in an impressive and captivating way. The project applies the concept of synesthesia in a very sensitive manner. It creates a perfect merger of impressive content that is fully connected to the architecture and environment of the memorial – resulting in a very specific and novel sensory experience. Nachklang convinced the jury as a concept that could be easily implemented to make history come alive.«

Johannes Geyer
And the Award goes to....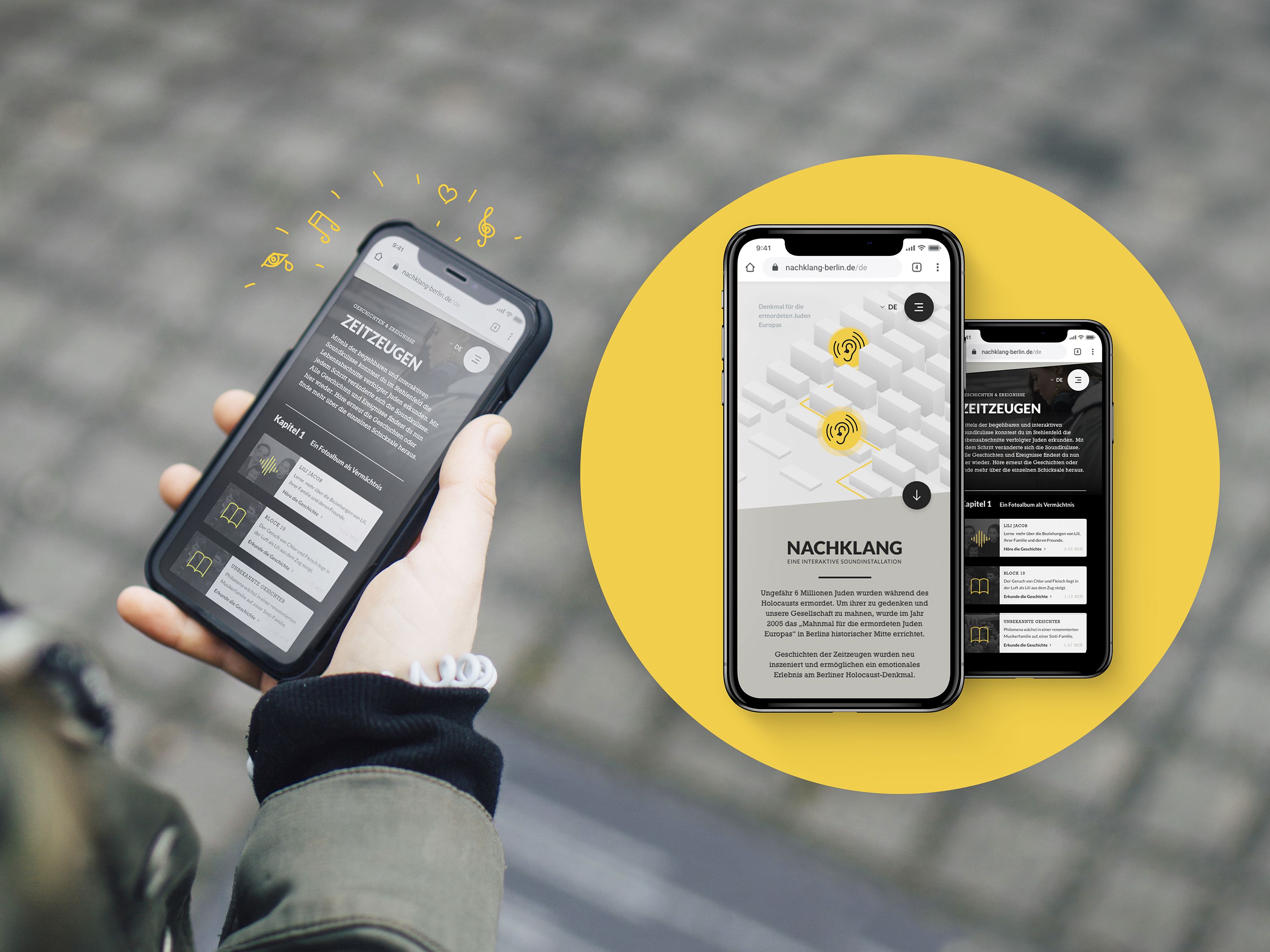 Three questions to the Project-Team
What was the particular challenge of the project from a UX point of view?
In addition to dealing respectfully with the topic of the Holocaust, it was a special challenge for us to integrate the monument into the concept without changing it in any way. The concrete steles were not allowed to be pasted over, used or changed in any way that did not correspond to the original intention of the architect. Therefore, in the end, we decided on a purely auditory solution on the monument.
What was your personal highlight in the development process? Was there an aha!-moment, was there a low point?
An important "aha! moment" in our development process was the rejection of approaches that required the use of the smartphone during the visit. During our research, we were surprised by reports of visitors who easily hurt themselves during their visit. In the narrow corridors and sharp angles of the memorial, it is easy to bump into other visitors. It became more and more clear to us that we needed a solution that would allow us to pause on the spot and get involved with the spatial effect of the memorial. Having to pull out the mobile phone again and again was no longer an option for us.
Where do you see yourself and the project in the next five years?
In the coming years, the digital culture of remembrance will continue to gain in importance. In view of the decreasing number of living contemporary witnesses, new solutions are needed for a sustainable culture of remembrance. We would be very happy if we could succeed in realizing the existing concept in Berlin.