School
Hochschule Mannheim
Teacher
Prof. Christian Schäfer
»This app concept convinced the jury through its clear-cut UI design, as well as with its well-founded research on user perspectives. The app combines the tasks of organization, communication and documentation in a very efficient way. By doing so it simplifies the complex daily routine and treatment processes of general practitioners in a significant way. All combined, it makes one feel that MDs would love to use this app.«

Pelin Celik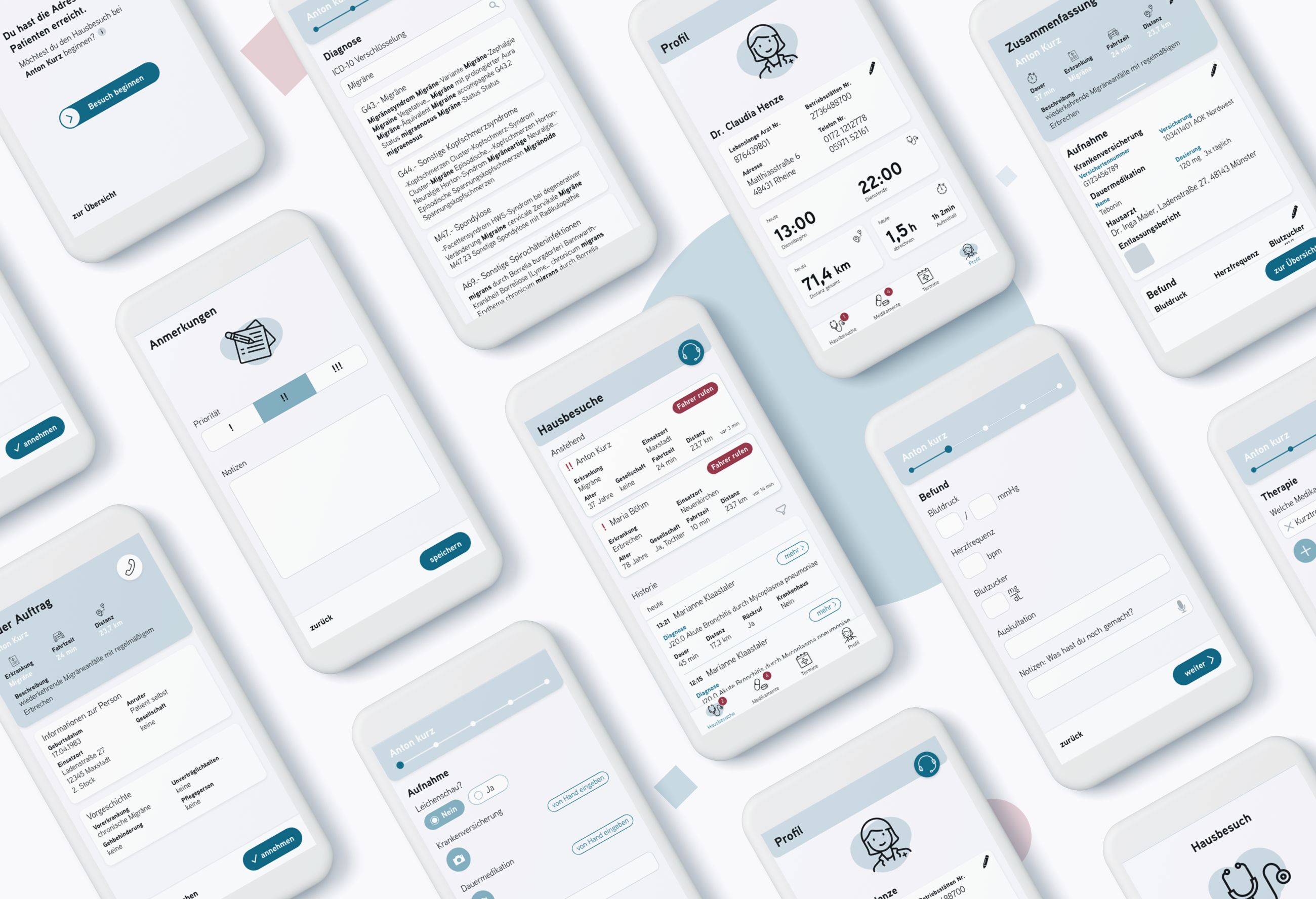 Three questions to the project team
What was the particular challenge of the project from a UX point of view?
Our target group is very heterogeneous: From digital enthusiasts to beginners, there is a wide range of patients, our service must be accessible for. Consequently, our focus was on creating a clear user journey and an intuitive product language. The question of how Artificial Intelligence has to be designed in order to take up an interface position in the communication between doctor and patient kept us very busy throughout the process.
What was your personal highlight in the development process? Was there an aha!-moment, was there a low point?
My personal highlight was the visit to the Duisburg doctor's call centre. I was able to do shadowings with call agents from different departments and get a detailed overview of the processes and organization of the emergency service from the perspective of the central switchboard. In the exchange with the Operations Manager and the IT assistant it became clear that the focus of the app should shift. The target group was defined more precisely, because the app was now to be aimed exclusively at doctors. This shifted the focus and I was able to go into more detail about the pain and needs of the doctors.
Where do you see yourself and the project in the next five years?
Since the project was developed on my own initiative, it is important to promote the app to the doctor's call centre and the two associations of panel doctors in NRW. Even though the health care sector is overloaded due to the current situation, I have already met with great interest from various doctors and the doctor's call centre with this app. Therefore I am convinced that the application will be developed and made available to all physicians in North Rhine-Westphalia. The entire documentation, organisation and communication during the emergency service for general practitioners could soon run exclusively via the DokDoc App.